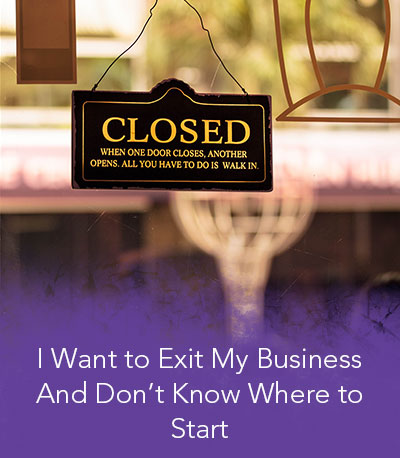 06 Jun

Are You Scared of Exiting Your Business?

Did you know that most established business owners over the age of 55 that I come across are tired, stressed, worn out and over it? Some want to eventually sell up or transition out of their business onto the next phase of their life. However many are not in a position to do so or just too fearful of the unknown.

Their business may be totally reliant on them or run very poorly. Therefore the reality of selling and getting a reasonable return can be greatly diminished.

If you leave it too late to decide you 'want out' , it can take weeks, months or even years to actually exit. Some boomers even walk away from their business in the end, just closing up because it becomes too overwhelming. Worse still, their health deteriorates or some other event can force you out…and not on your terms!

If you're feeling 'tired, worn out and over it' and you're in your fifties, first thing to do is to acknowledge it and realise you are not on your own. Many boomers feel this way.

However feeling this way and taking action to change are two different things. Men in particularly are loathe to admit to themselves that maybe it's time to prepare to exit.

Here's 3 simple steps you can take right now if you've been thinking about exiting and don't know where to start:
Who do I need to speak to about exiting? Start the dialogueBesides the transactional professionals like an accountant, financial planner, business broker etc. Who else do you need to consult? Your business and life partners? Is there someone you know within or outside your business who could buy it?
What does exiting your business look like?Do you want to still be involved part-time or completely remove yourself from your businessWhen is a realistic time to have completed the exit?

What will you be doing once you're out?

Decide/Take ActionYou've done your fact-finding, now it's time to decide and take the next step.Exiting your business can be a rollercoaster of emotions for you. Clients I've worked with have been so much more confident and clear about what they need to do and taken the actions required to prepare them to exit. You're going to need more than a plan to make this happen.

Reduce the stress and overwhelm and get moving because you never know what's around the corner.
I've recently created a short quiz to discover if you are ready to sell your business or start the transition. As a special bonus, for completing the quiz, you will receive a copy of my cheat sheet "7 Ways To Avoid Business Burnout''.
On top of that you'll have the opportunity to schedule a Free 15 minute review of your responses 1 on 1 with me. I will uncover your biggest challenge and give you specific ideas to help overcome it.
This may be the best 5 minutes you ever spent on your business. Click here now to take the quiz and receive your personalised results: http://www.relaunchyourlife.com.au/future/